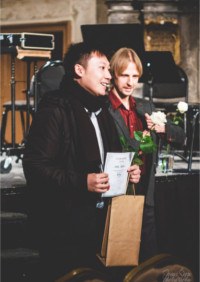 We are excited to announce the winners of the 1st international music composition competition "Future Symphony"!
1st place: 🇨🇳️ Xiaoran Jiang ("Befall")
2nd place: 🇰🇷️ SiHyun Uhm ("Apex of Longing"), 🇺🇸️ Robert Ge ("Night Run")
3rd place: 🇨🇳️ Pengyi Li ("Polymorphism")
Audience Sympathy prize: 🇱🇹️ Matas Drukteinis ("Late Night at the City")
Biggest congratulations to the composers!
Compositions were evaluated by the jury:
Marius Baranauskas (chairman)
Gediminas Gelgotas
Ayal Adler
Rasa Murauskaitė
Modestas Barkauskas
The competition featured composers from Lithuania, Estonia, Georgia, France, USA, Canada, China, Taiwan, Australia and South Korea.