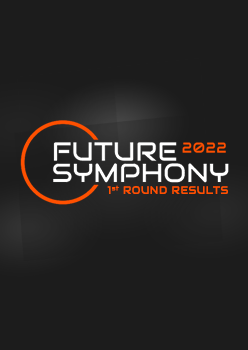 We are excited to announce the finalists of the 3rd Future Symphony Competition!
Jasper de Bock (The Netherlands)
Lukas Butkus (Lithuania)
Roman Czura (Poland/Germany)
Dario Michelon (Italy)
Przemysław Scheller (Poland)
This year, 22 composers from 14 countries have submitted their scores. The five finalists were chosen by the 1st round jury committee:
Vykintas Baltakas (chairman, Lithuania)
Jānis Petraškevičs (Latvia)
Rita Mačiliūnaitė (Lithuania)
Modestas Barkauskas (Lithuania)
The chosen compositions will be premiered on September 9th, 6:30 p.m. at the Lithuanian National Philharmonic Hall.
---
This project is financed by the Lithuanian Council for Culture, Association LATGA and Vilnius City Municipality
Founding sponsor: Mr. Gediminas Kuprevičius
Main sponsor: Lithuanian National Philharmonic Society
Sponsors: Saulius Karosas Foundation, Cafe Grande
Informational sponsors: LRT, IQ.The Economist
Partners: CAFFEINE, Domus Maria Hotel, TRIPLENODE, Pirmoji Kava